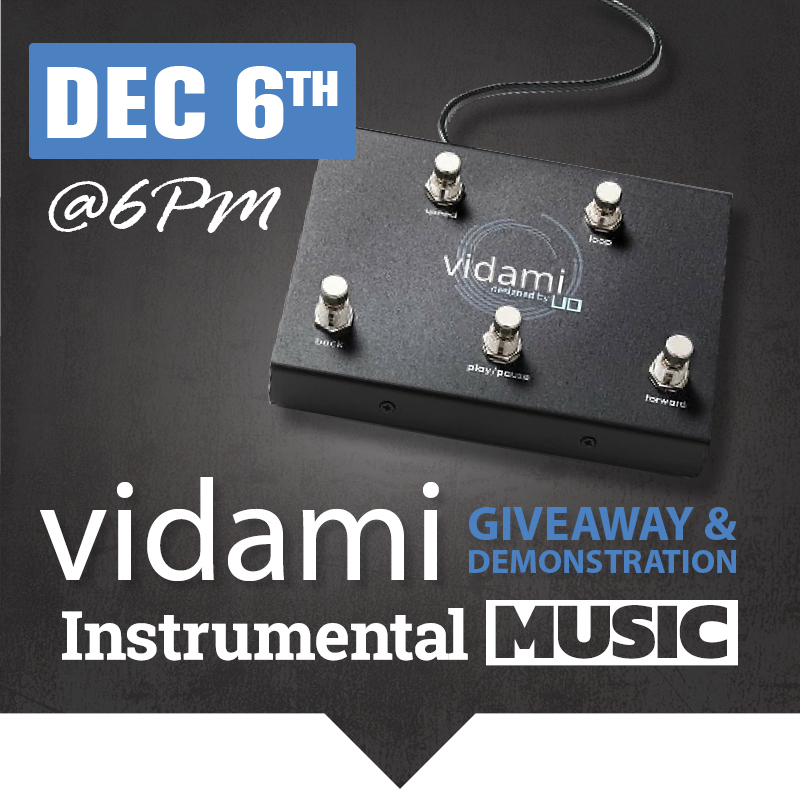 Vidami Giveaway and Demonstration
Wednesday, December 6th @ 6:00PM | Thousand Oaks
We're thrilled to announce a spectacular event that will be music to your ears! Join us for an exclusive **Vidami Giveaway & Demonstration** that will elevate your musical journey to new heights!
WIN the Game-Changing Vidami Pedal!
Ever wished you could master those tricky guitar solos without constantly reaching for the mouse and keyboard to control online videos? Your wish is about to come true! We're giving away 2 revolutionary Vidami YouTube Looper Pedals to a few lucky winners, as well as other prizes and big discounts!
Why Attend?
- Live Demonstration: Witness firsthand how Vidami can transform your practice sessions. Our experts will showcase how you can loop, slow down, and control playback all hands-free!
- Exclusive Giveaway: Don't miss your chance to WIN your very own Vidami pedal and amp up your learning experience.
- Meet & Mingle: Connect with fellow music enthusiasts and share your passion.
- Special Discounts: Enjoy exclusive offers on Vidami products available only at the event.
*RSVP Now and step into a world where your musical dreams are just a pedal away. Save the date, and let's hit the right notes together at Instrumental Music!