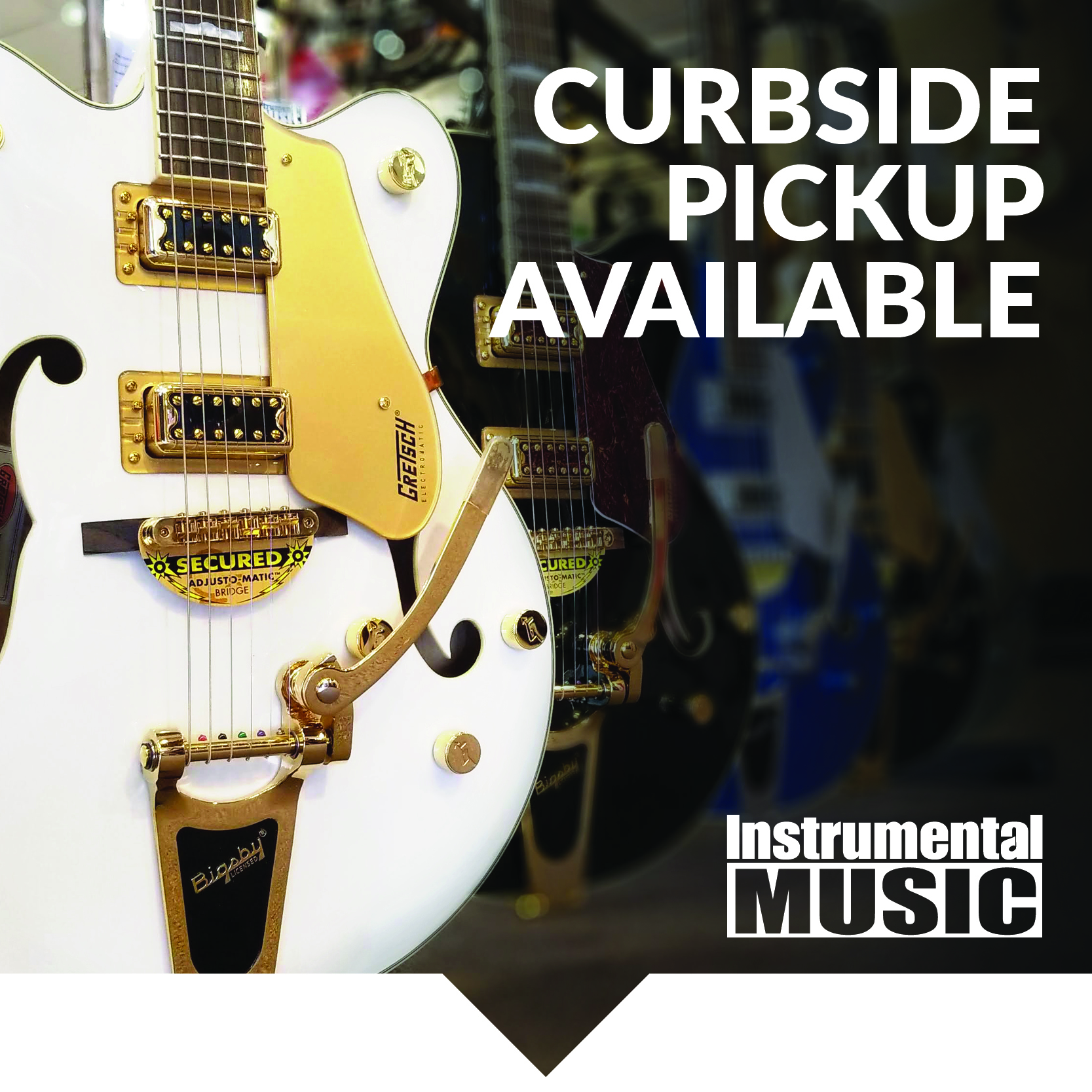 Keep making music, we're here for you with curbside pickup and shipping options!
Our local music community has shown so much strength throughout this crisis. We are following, watching and seeing your creations blossom through social media and want you to know that we are here for you despite our stores closing for walk-in business. Here are three ways we can get you the gear you need.
Curbside Pickup Options:
Chat with us - For Thousand Oaks and Santa Barbara customers, chat with our team via our website for store inventory questions and curbside-pickup. Our entire inventory is NOT listed on our website, so whether you need a new guitar, a set of drumsticks, recording gear or something else… we're on it. Chat hours fluctuate, we are typically available from 12:00-5:00 PM but you can always leave a message if we are offline and we will get back to you.
Email us – For Thousand Oaks email

[email protected]

for Santa Barbara email

[email protected]

let us know what you need and we'll get your order pulled and ready for curbside pickup.
Shop on Reverb - For Thousand Oaks customers, shop our Reverb.com store and note your request for curbside pickup during checkout. Our staff will be in contact via phone or email for a time when you can curbside pickup the order.
Shipping Options:
Shop on Reverb - Order on our Reverb.com store and we will ship the item directly to your door.
Music remains one of the greatest sources of comfort during these challenging times. Keep exploring and expanding your passion, we can't wait to see what you're doing.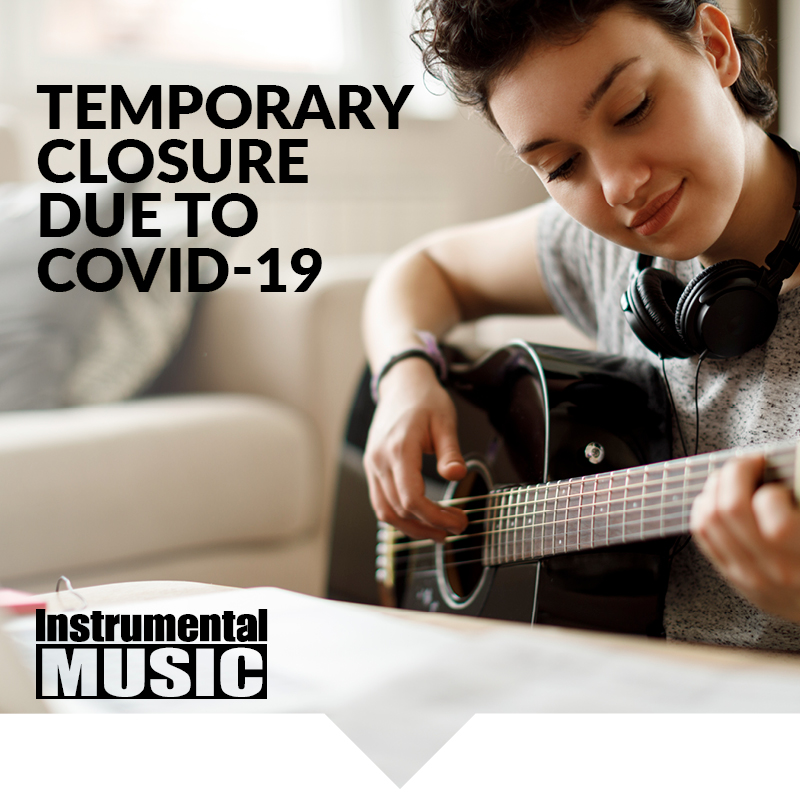 Temporary Closure
Due to the recent state mandate to stay at home we regret to announce that all Instrumental Music locations will be closed until further notice. However, we will still offer curbside pickup by appointment for any items on our reverb site. reverb.com/shop/instrumental-music
We've been encouraged and reminded this week that one of the greatest sources of comfort during these challenging times is music. We encourage our family of customers and employees to use this time to continue to explore and expand your passion for this art we enjoy and share together.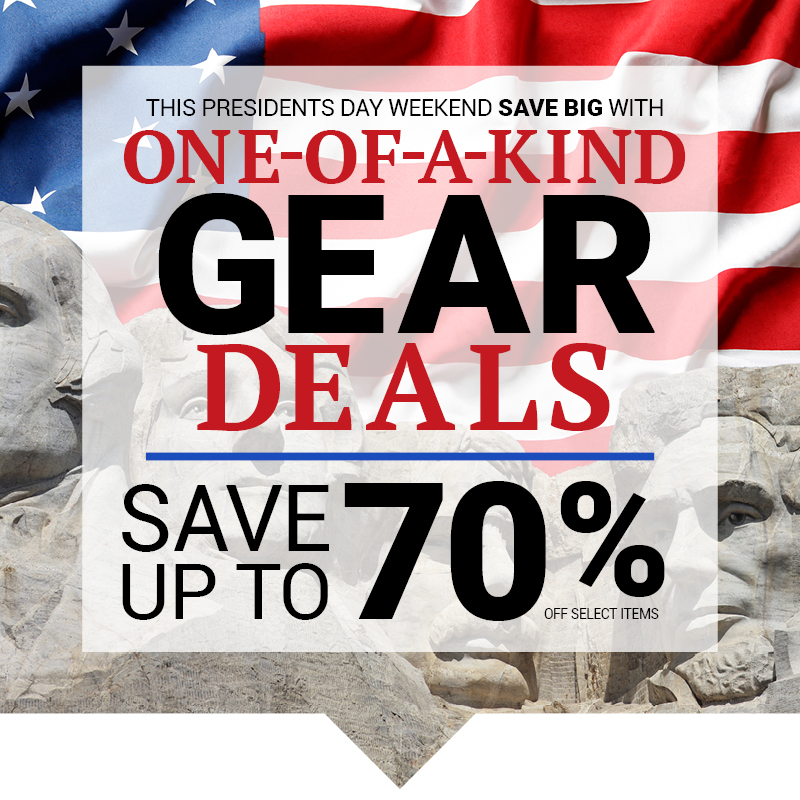 Presidents Day Sale!!
Februrary 15 | 10:00 AM - 6:00 PM (Saturday) TO & SB
Februrary 16 | 12:00 PM - 5:00 PM (Sunday) TO & SB
Februrary 17 | 11:00 AM - 4:00 PM (Monday) TO & SB
Stop by your Santa Barbara and Thousand Oaks Instrumental Music stores this Presidents Day Weekend for up to 70% OFF select one-of-a-kind finds including remaining drum and drum accessories at liquidation prices! Selection and offers vary by store, and ask an associate for details.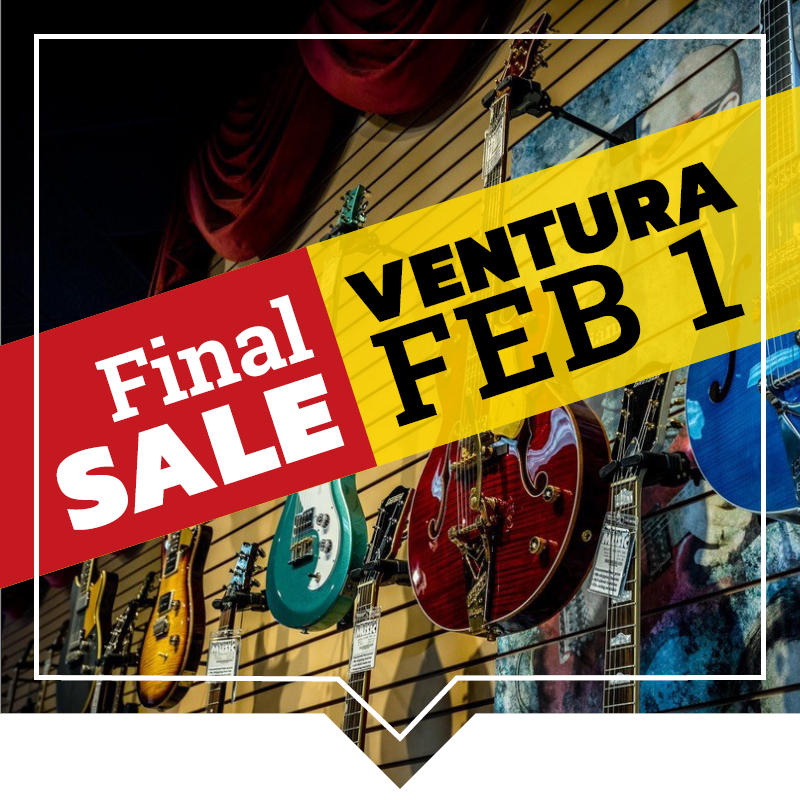 Ventura One-Day-Only Final Inventory Sale
February 1 | 10AM-6PM (Saturday) Ventura
Our Ventura location will be holding it's Final Inventory Sale February 1st from 10:00 AM to 6:00 PM during which you will be able to purchase any remaining inventory and store fixtures at discounted prices, no reasonable offer will be refused. Scratch and dent items will be below dealer cost.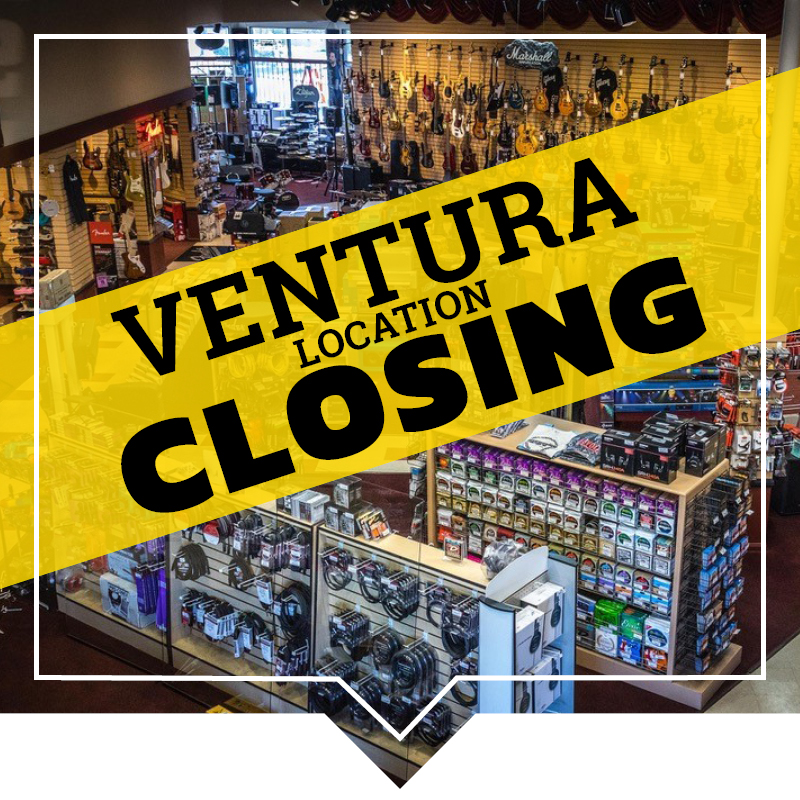 Ventura Location Closing
January 18th | 6PM (Saturday) Ventura
It is with the utmost appreciation for your continued support over the past 40 years that we announce our Ventura store will be ceasing operations Saturday, January 18th 6PM, to make way for a new martial arts studio. Our Thousand Oaks and Santa Barbara locations remain open and business continues as usual. We look forward to seeing you at our other locations!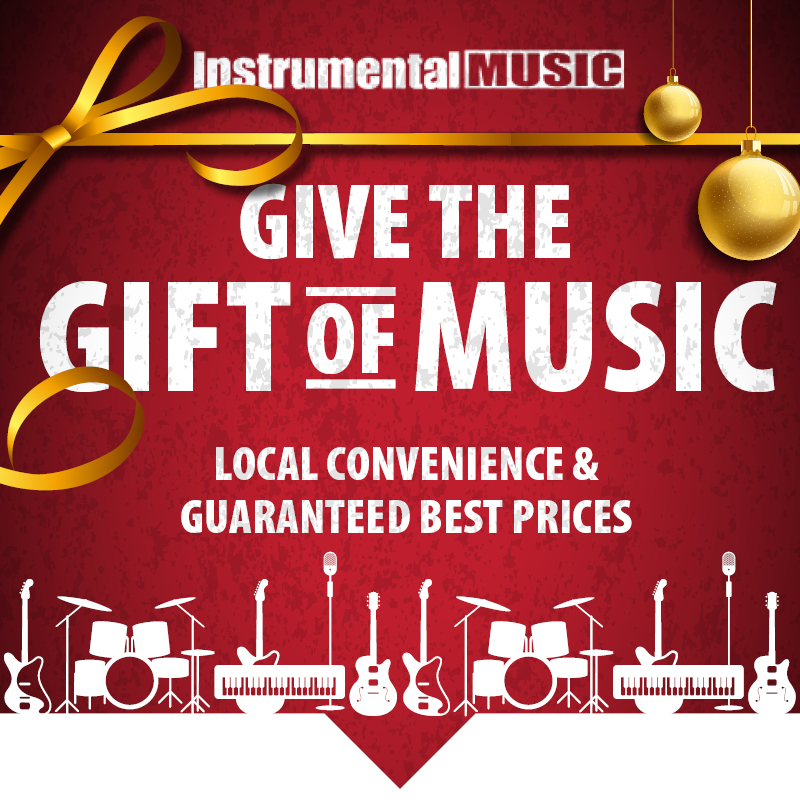 Give the Gift of Music – Holiday Specials!
Now through December 24th | 4:00 PM, All Locations
Are you a last minute shopper? Don't worry, we've got tons of hip gifts for the musician in your life. Save up to 70% off select items and get our exclusive 30 day best price guarantee. We also have private lesson gift certificates available to learn any instrument.
We've got some in-store only deals that will blow this Christmas out of the water! Pick up a Fender CD-60v3 with case in Black & Natural for just $199.00 (Regularly $259), or a Fender Limited Edition Amp for just $149 (Regularly $219).
Rather put it on credit? This one's for you! Our friends over at Synchrony Music will send you a
$100 Visa Prepaid Card
by mail when you open a new Synchrony Music Credit Card and make a purchase in the same day. See store for details and approval, offer valid through December 31, 2019.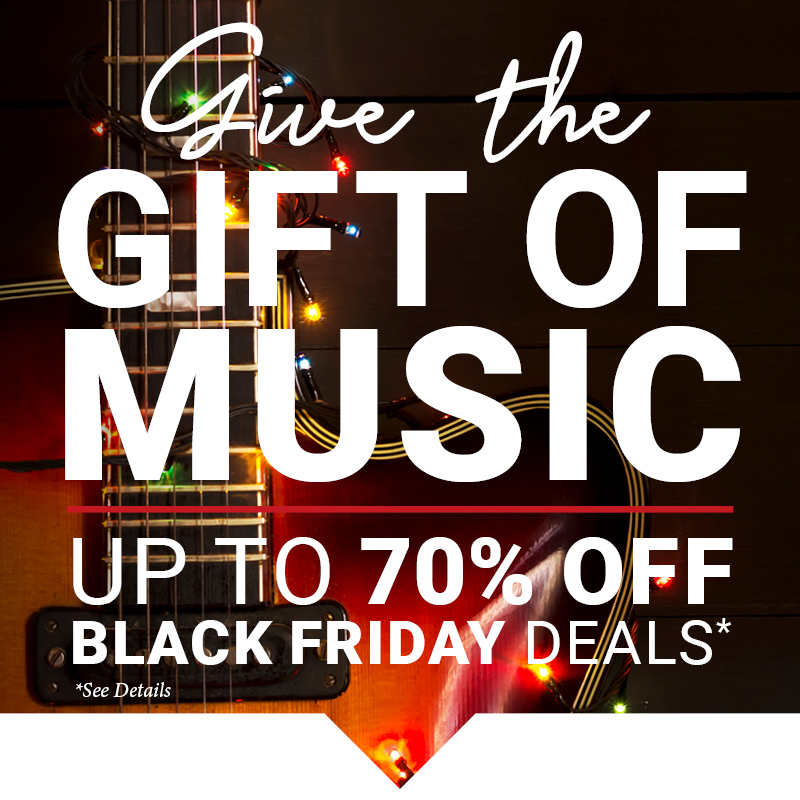 Gift of Music Black Friday Sale
November 29 – December 1 | 10AM (Friday, Saturday, Sunday) All Locations
Looking for something a little more musical this Black Friday weekend? Swing by your local Instrumental Music and snuggle up with a lovely acoustic or plug in and test our array of amps and gear. Sleep in while you're at it, because we won't be open until 10AM. Download the coupon for 15% off your entire purchase or pick up some incredible mind-blowing double deals at up to 70% off while they last – these are so good we can't even advertise them online.
To get the inside scoop on our Black Friday specials, like a FREE Deluxe Carry Bag with purchase of a Fishman Loudbox Mini, join our email list. Plus, we're offering special 24-month FREE financing on Taylor guitars $899 and above. (See store for details.) Stay tuned for more details. See you there!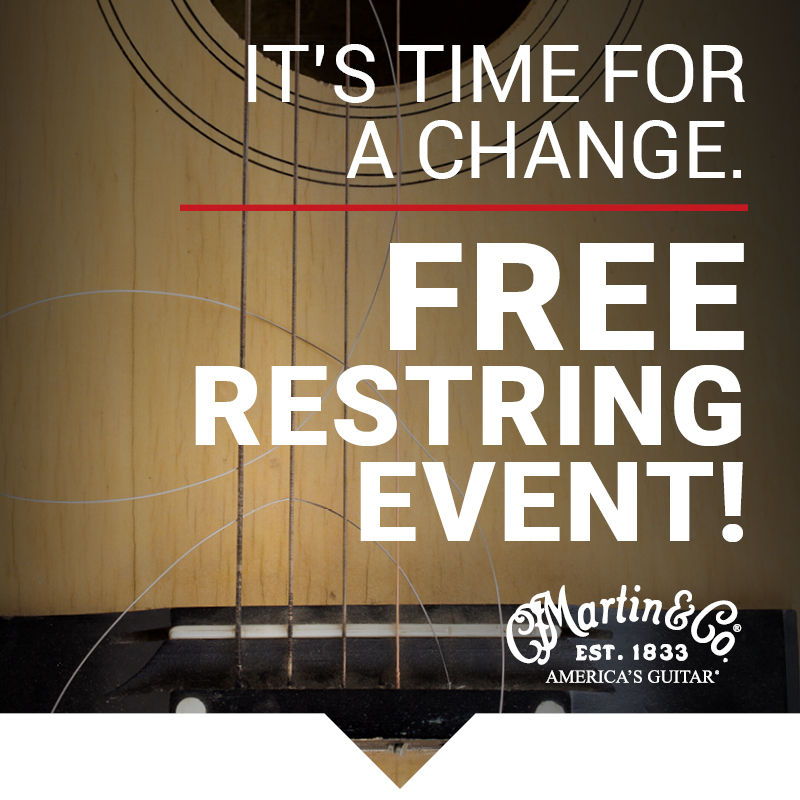 FREE Restring Event
November 8 | 3PM- 7PM (Friday) Santa Barbara
November 9 | Noon - 4PM (Saturday) Thousand Oaks
Did you know you should change your guitar strings regularly for optimal tone and performance? Instrumental Music and Martin Guitars are teaming up to bring this FREE string change event to our community! RSVP for a time slot to bring your steel string guitar by and have a new FREE set of strings changed by a professional technician for FREE. One guitar per person, MA540T or MA550T strings will be used.
Not sure what strings are right for you? Martin will have special demo guitars on-hand and staff will be here to answer questions, plus we'll be giving out free Martin swag while it lasts!
Buy One Get One FREE!
Don't get caught without backups! We're so confident you'll love your new Martin strings that during this event when you buy any set of Martin strings you'll get a set of MA540T or MA550T strings free.
If you were unable to book a free restring during this event, please stop by anyway – we'll have swag, specials and demos going on!
RSVPs have closed. We may have cancellations or additional open slots available on Saturday, please call (805) 496-3774 for information.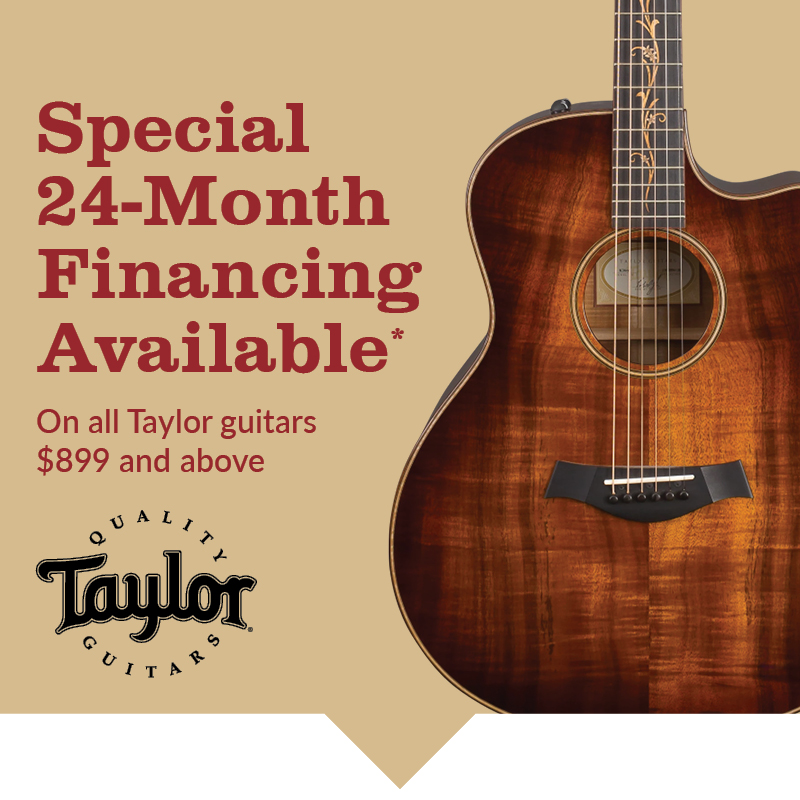 Play the Taylor Guitar You've Been Dreaming of with 0% Interest for 24 Months
September 1 - October 31 | ALL LOCATIONS
Now through October 31st grab the Taylor of your dreams at 0% APR for 24 months. Valid on all Taylor Guitars priced $899 and up at all Instrumental Music locations.
Financing through Synchrony Bank. 24 equal monthly payments required. Exclusions and limitations apply, see store for details.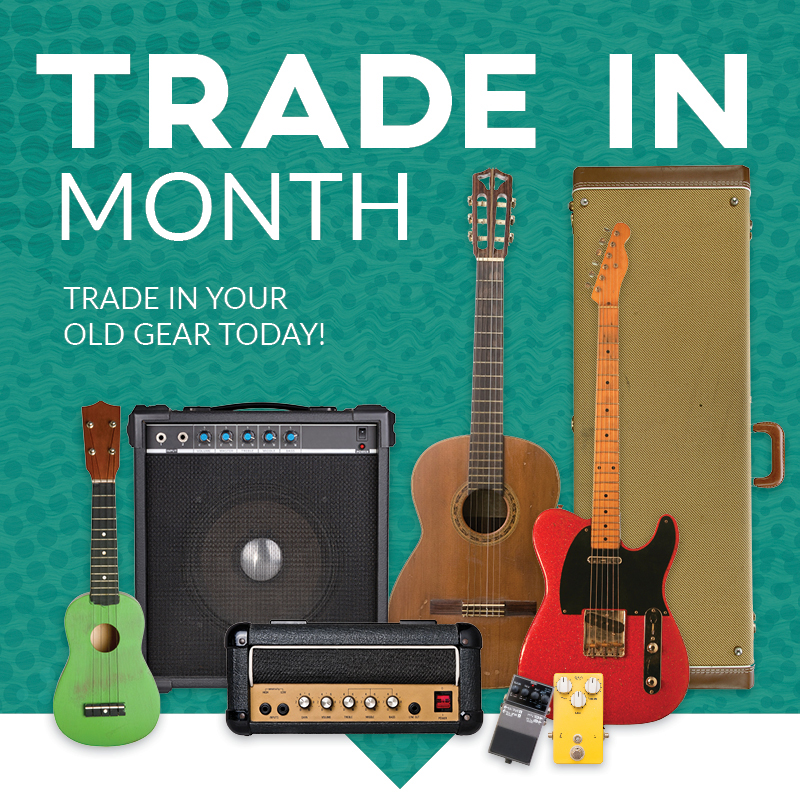 Trade in Month
Through October 31 | ALL LOCATIONS
CLEAN OUT YOUR CLOSET AND TAKE HOME THE LATEST GEAR.
3 Reasons to trade in your old gear at Instrumental Music during the month of October:
HASSLE-FREE
Stop by any one of our three locations and show us your gear for a free estimate. We trade in all musical equipment… guitars, pedals, amps, you name it! Our friendly staff would be happy to help you trade-up to new equipment you've been itching for.
FAIR PRICING
We'll give you a fair price for your used gear without the hassle and back-and-forth of wish-washy Craigslist buyers or overbearing pawn-shop negotiators, so come show us what you've got or submit an online form today. We'll help you clean out your closet AND take home the latest gear!
FREE FINANCING
Trade up during the month of October and swoop the new gear you've been wanting with 1 year of FREE financing. If you're tired of waiting, now's the time to take your gear to the next level! (Financing on approved credit)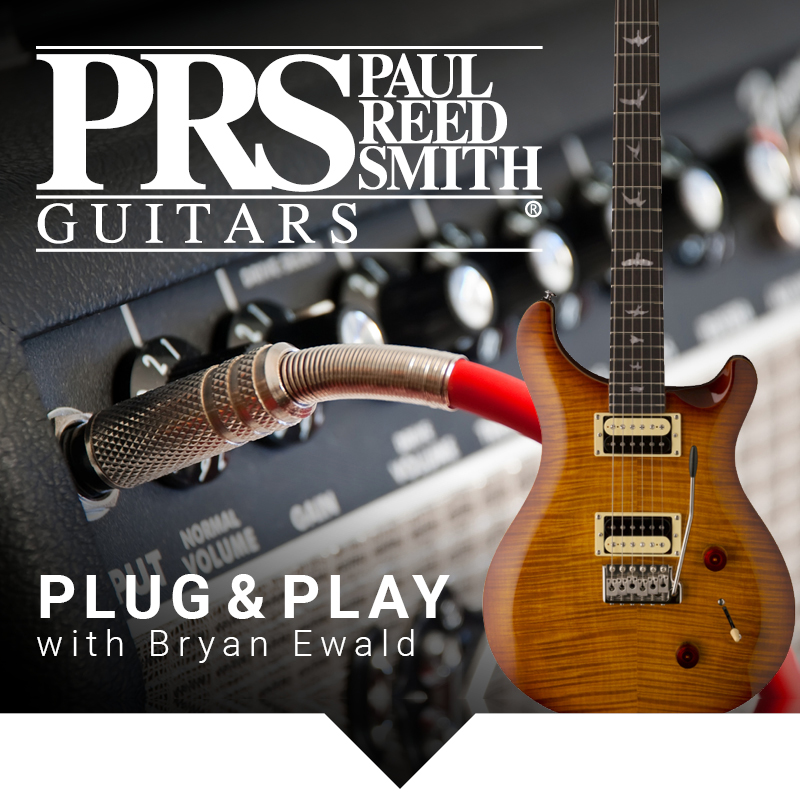 Plug and Play with Brian Ewald
October 8, 2019 (7:00 PM) (Tuesday) Thousand Oaks
RSVP to attend a very special Paul Reed Smith, ( PRS ) guitar showcase. Don't miss this special night of great music and great PRS guitars. Space is limited, RSVP now. Free swag and giveaways while supplies last!
PRS is one of the world's leading innovators and manufacturers of electric guitars and amps. Don't miss this unique opportunity to hear these instruments performed by PRS Artist Bryan Ewald, immediately followed by a hands-on demos with PRS brand ambassador Bobby Serrato. PRS will be bringing some rare specialty models direct from the factory which will be available for sale at special event prices.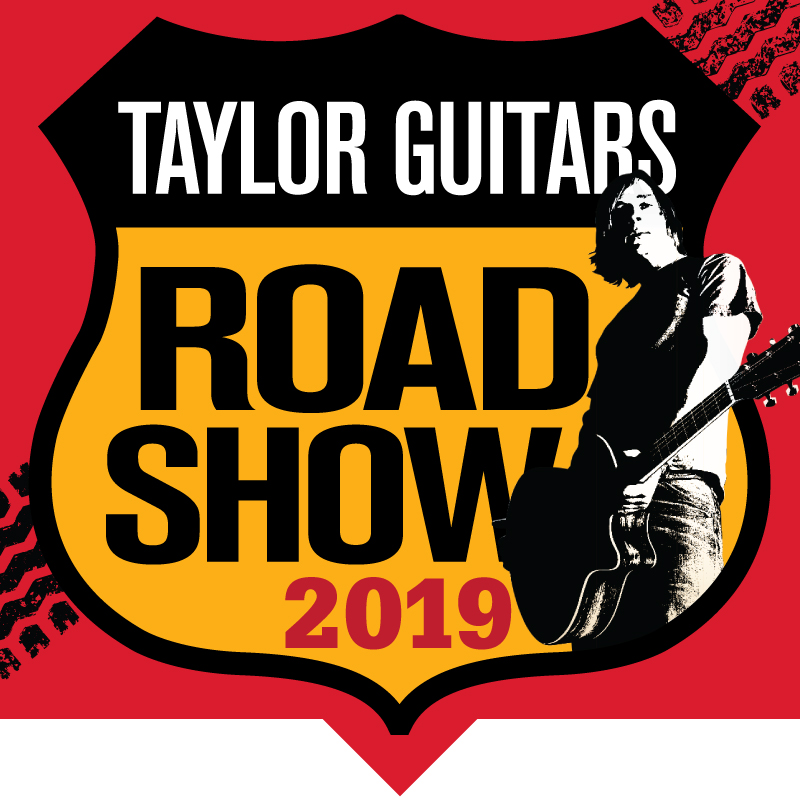 Taylor Guitars Road Show 2019
September 9 | 7PM (Monday) Thousand Oaks
Stop by Instrumental Music Thousand Oaks, September 9th at 7pm for the Taylor Guitars Road Show 2019!! Join us for guitar talk and demos with Taylor factory staff from El Cajon, California. Taylor representatives will bring rare-one-of-a-kind models direct from the factory at special prices.
Hear and play the latest from the Taylor line, including Grand Pacific, V-Class Grand Concert, and Builder's Edition guitars
Chat with Taylor experts who can help you find your perfect guitar
Enjoy special Road Show pricing on select models
Free TaylorWare gear and Anti-Rust Elixir® Strings

(while supplies last)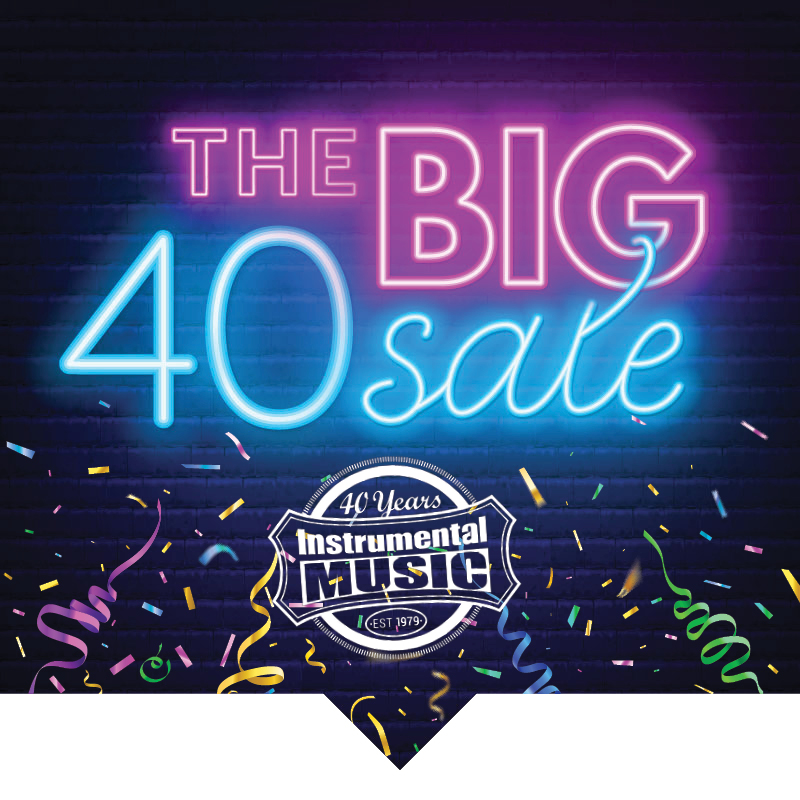 THE BIG 40 SALE - 40% OFF for our 40th Anniversary! EXTENDED THROUGH LABOR DAY!
August 23 - September 2 (Monday) ALL LOCATIONS
Labor Day Hours: 11:00 AM - 4:00 PM
Celebrate Labor Day and Instrumental Music's 40th Anniversary with 40% OFF select products, including one-time specials too low to advertise on guitars, amps, pedals, drums, keyboards, accessories and more!
Stop by your favorite Instrumental Music and grab the gear you've been waiting for at fantastic prices, from your local independent music store. First come first served, no layaways. Cannot be combined with other offers.
JUST ADDED! Enjoy 18 months interest FREE financing from our partners at Synchrony Bank, on approved credit. NOW is the time to get the gear you've been waiting for!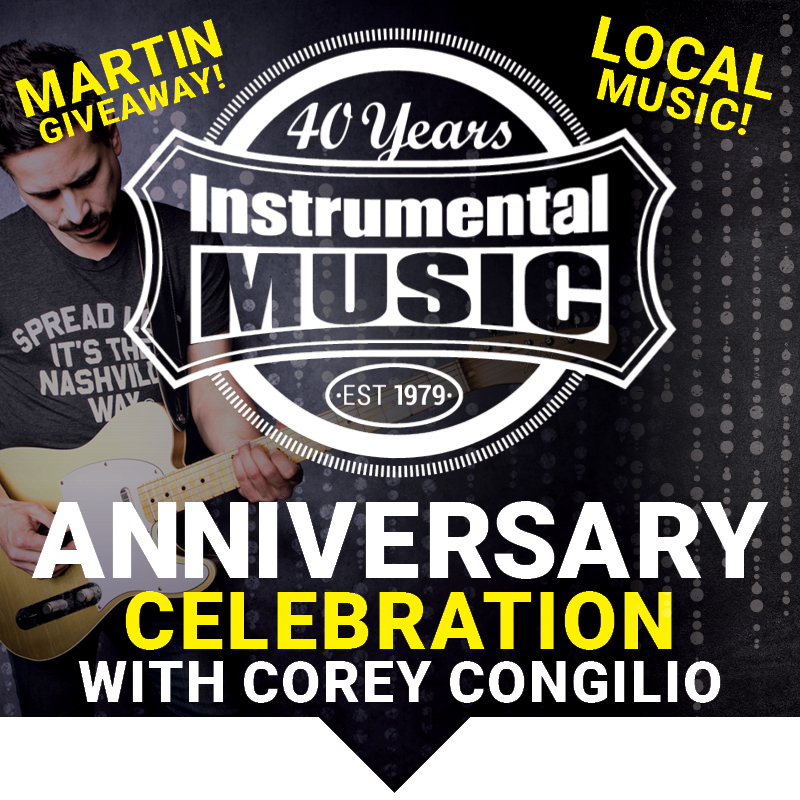 Instrumental Music Anniversary Celebration with Corey Congilio
August 13 | 7PM (Tuesday) Thousand Oaks
August 14 | 7PM (Wednesday) Santa Barbara
August 15 | 7PM (Thursday) Ventura
As we celebrate 40 years in business, we look back to how it all started... with a small music shop in the San Fernando Valley. Since then, our three-location operation has become one of the top 100 music stores in the USA.
RSVP for your chance to win one of three Martin LX1 Little Martins - retail value $459 (One raffled at the conclusion of each event)! Join us for a fun evening featuring Martin clinic by performer, session guitarist Corey Congilio, PLUS one-of-a kind Custom Shop guitars from Martin, local performances, swag giveaways, refreshments, and incredible limited-time discounts - including a BOGO on Martin strings!
One raffle entry per attendee. Must be present to win.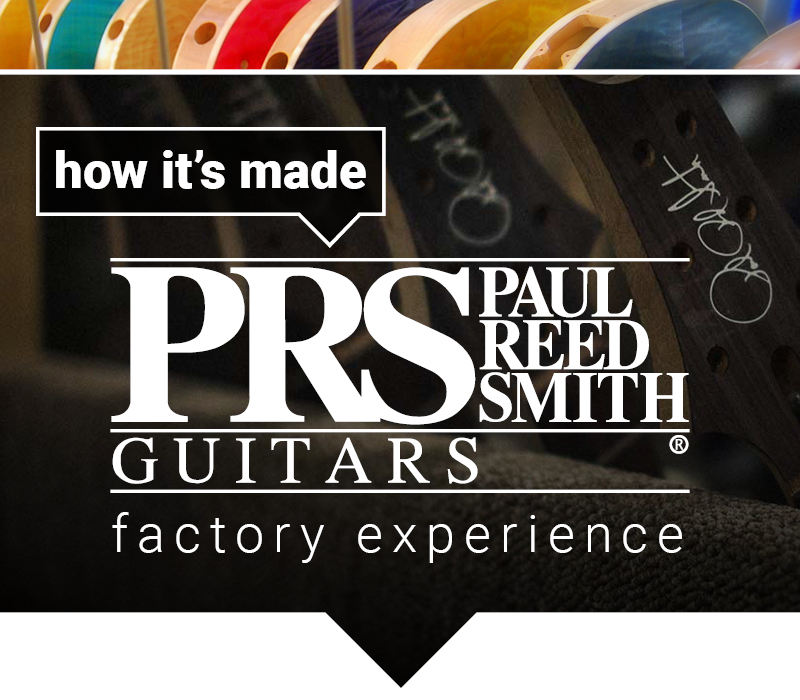 How it's Made Factory Experience with PRS
May 29 | 7PM (Wednesday) Thousand Oaks – RSVP (805) 496-3774
May 30 | 7PM (Thursday) Ventura – RSVP (805) 654-9388
May 31 | 7PM (Friday) Santa Barbara – RSVP (805) 569-5055
Join us for a unique "how it's made" factory experience with PRS guitars. Get hands on with body and neck rough cuts, parts, pickups and one-off's, plus free swag, video clips of the PRS factory process and Q/A session with Shawn Nuthall and Bobby Serrato from PRS.
Instrumental Music will have a factory selection of Core, S2, SE's and PRS Amps on hand, so you can see and play all the latest PRS gear. Free swag while it lasts. Space is Limited! Reserve your spot today by RSVPing to the number above.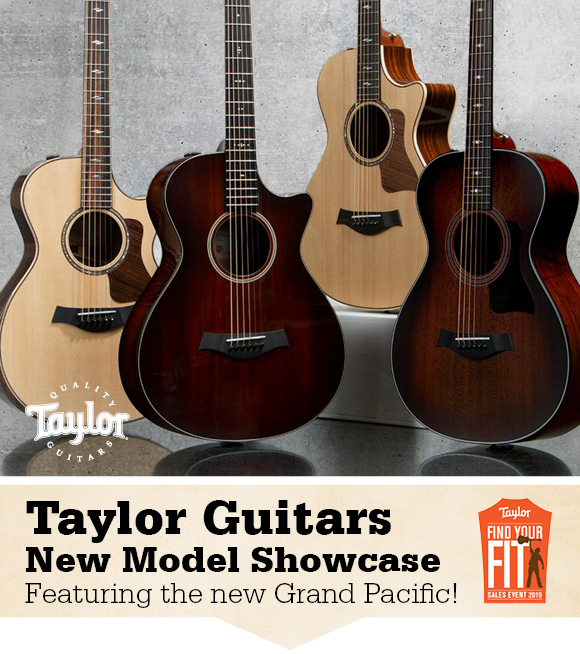 Taylor Guitars New Model Showcase – Featuring the Grand Pacific
April 11 | 7PM (Thursday) Thousand Oaks
1501 E. Thousand Oaks Blvd
Thousand Oaks, CA 91362
(805) 496-3774
Meet with friendly Taylor factory experts and Instrumental Music staff to find the Taylor that best fits your musical needs. We'll identify your player profile, and explain which guitar body shape and wood pairings best match your playing style. Not in the market for a new guitar? Come out anyway!
We'll feature the new Grand Pacific, plus an array of cool customs, new offerings from the Taylor guitar line, plus other popular Taylor models for you to test-drive, along with a strong model selection in stock at Instrumental Music. Enjoy special one-night-only pricing – and up to 18months free financing.
Whether you're on the hunt for your first or next Taylor or simply want to check out some cool guitars and pick the brain of a Taylor expert, we hope to see you!
Reserve your spot today by calling Instrumental Music (805) 496-3774.