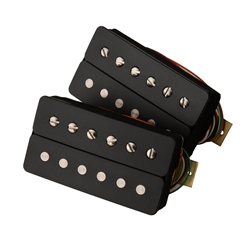 PRS Limited Pup Set 85/15 TCI Pickups
Manufacturer Part #:
  111818
PRS 85/15 pickups bring vintage and modern pickup design together to deliver exceptional clarity and extended high and low end. With balanced full-spectrum clarity, PRS 85/15's are perfect for modern players driving a pedalboard, and have enough character to deliver when plugging straight into an amp.

PRS 85/15 pickups are spec'd with 5-conductor wire that is designed to work with all PRS electronics configurations and have been fine-tuned via our TCI process. "TCI stands for tuned capacitance and inductance and represents a more refined ability to tune those factors to get the result we want. To our ears, the results are very musical. We are very proud of how far we've come in the understanding and making of pickups. It's been a fun process," said Paul Reed Smith.
111818
Manufacturer Part #:
  111818
---
Customer Reviews