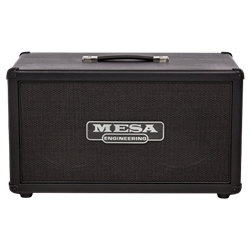 Mesa Boogie Rectifier 2x12 Compact Cabinet
Manufacturer Part #:
  0212DABF
The Compact, Tighter and More Balanced-Sounding 2x12 in the Rectifier® Cabinet Line
Originally designed to provide a matching, sealed, closed-back 2x12 extension option for the MESA® Roadster® head and combo, the 2x12 Recto® Compact has now established itself as the compact, tighter and more balanced-sounding 2x12 in the Rectifier® Cabinet Line. While it's smaller size delivers more balance across lows, mids & highs, bass resonance and authoritative punch are still signatures of the Recto 2x12 Compact. Beyond its increased focus and tightness in lows, the 2x12 Compact is welcome to those seeking a smaller footprint and easier transport while making no sacrifices in legendary Rectifier tone.
You simply won't find a better cabinet. ALL MESA® ENCLOSURES are made using the finest Void-free, Marine Grade Baltic Birch. Super strong rabbet corners are glued and nailed. Speaker baffles are fitted with superior dado joint construction and braced. Grilles are wrapped around a separate grille board, not the baffle board. Grille material is made of strong twisted jute dipped in a special coating that filters top end for a sweeter response.
Features
Cabinet Material: Marine Grade, Baltic Birch
Styletype: Closed Back (sealed)
Cabinet Internal Volume: 120 Watts
Speakers Mounting Position: Celestion Vintage 30s / Rear Mounted
Mono Or Mono Stereo Input: Mono Std.
Cabinet Impedance: 8 Ohm
Specifications
Weight: 50 Lbs.
Height: 15 1/4"
Width: 26 3/4"
Depth: 12 3/4"
0212DABF
Manufacturer Part #:
  0212DABF
---
Customer Reviews