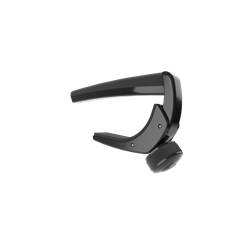 D'addario Pro Plus Capo, Black
Manufacturer Part #:
  PWCP19
Thanks to our revolutionary, FlexFit™ technology, the pad used on the capo arm of the D'Addario Pro Plus Capo mimics the way the anatomy of the human finger functions when fretting a string--so you never have to worry about unwanted buzzing, muted strings, or intonation issues caused by varying capo pressure. With minimal overall pressure every string rings clear, clean, and in tune. The Pro Plus is designed to function perfectly on virtually all guitars, including flat fingerboard classical guitars, all the way to vintage electrics with a 7" fretboard radius.
PWCP19
Manufacturer Part #:
  PWCP19
---
Customer Reviews